Joe Kubert cover art from DR. FATE #9, though it oddly bills itself as a 1st issue special.

Sigh. Super lazy this time around and you can see some shadowing from the camera down in the lower right. Bleah.

DR. FATE #9

1975, DC Comics

Joe Kubert cover
The name of the comic series was actually 1st Issue Special, and, along with several attempts to revive dormant DC characters like Dr. Fate, Metamorpho, and Manhunter, featured the auspicious debuts of Lady Cop (#4) and Jack Kirby's Dingbats of Danger Street (#6)—and also Warlord (#8).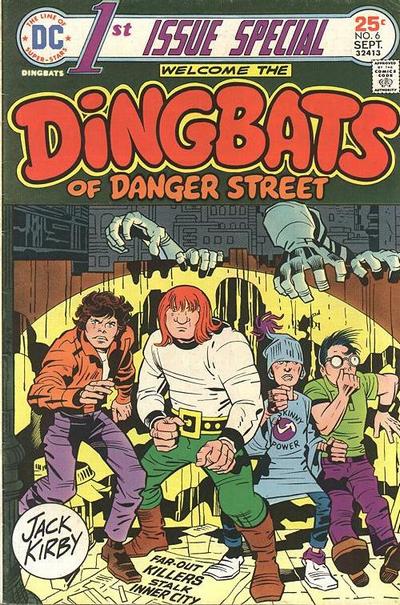 women have already had massive, historic success in the comics industry, and at this point those outlets that aren't adapting to the wave of female readers and creators are truly out of step with the times, and not the trendsetters.
Two decades later, he came up with Iron Man, the X-Men, Thor, the Hulk, the Fantastic Four, Nick Fury and many other Marvel Comics characters and stories in collaboration with Mr. Lee. That would have been enough for any legacy, but after leaving Marvel in 1970, Kirby singlehandedly conjured a multi-title mythology for rival DC Comics now known as the Fourth World saga. Incorporating galactic genocide, technology, mysticism and comedian Don Rickles, the unfinished Fourth World narrative is so uniquely convoluted that Mr. Gold compared it to James Joyce's "Finnegans Wake."

"Kirby was like Louis Armstrong or Miles Davis in that his touch just elevated what he did," Mr. Gold said. "He turned [comics] from junk into something with real emotional depth."
I think one of our problems now is that we have guys who love comics. But they read nothing but comics. They're people with limited education and limited views, so they keep feeding back into comics what they're reading in comics. What comics need is an educated mind, a cultivated mind — it needs somebody with other ideas to come in, and it needs to step away a little, I think, from the trite, the cliche material that we've been dealing with all these years.
When I was working on 52, I half-jokingly asked Geoff Johns what it was with him and decapitations. If you've read his work, you'll know what I'm talking about. Black Adam, in particular, had a penchant for removing the top, so to speak. His response was that he'd grown up playing Mortal Kombat. Fatalities were common, as he put it; a decapitation was de rigueur. Me, I was in college whenNarc came out. Late formative years, and I still remember being taken aback the first time I watched the animated pitbulls tearing me apart on the screen.

-Greg Rucka
I am a guy who never wins these things. I want the attention as much as the next guy, but by the same token, I don't care that much about the enthusiasm of others. If I did, I would probably have done different work, so I accept the fact that I am the architect of my own adversity. […] I live a small life. The work speaks for itself. I'm ashamed of some of it because I take credit and blame equally. And I am bitter about some stuff and okay with others, but as I get older, I get less bitter, because I give less of a shit.
-Howard Chaykin, in a 2006 interview with Bob Andelman